The Experience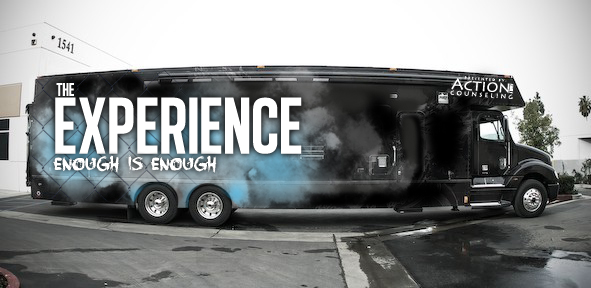 "The Experience" Proposal
Description
"The Experience" will be a traveling, electronic digital memorial. It will contain a large billboard sized screen that can be displayed at various Santa Clarita events and other controlled settings, (ie. Concerts in the Park, Every 15 Minutes, High School Football Games, Emergency Expo, July 4th Parade, etc.).
Stories can be added, changed and modified for different audiences and venues.
The intention is give families an opportunity to share their story; to be a possible deterrent to other youth in our community and inspire sober living and healthy choices.
The digital display program will contain actual names (if the family approves) of local Santa Clarita youth who have died from a drug overdose. 
The Experience shall also be used in our local schools. The vehicle may be parked outside a school auditorium, showing a "promo" clip as the kids enter the auditorium. The full digital "experience" will then play in the auditorium, with Action and Sheriff Facilitators on hand to lead the discussion following the video.
Mission Statement
We are committed to cause a shift in consciousness, by raising awareness about the lasting effects that drug fatalities have on friends and families.
This memorial is to be a powerful and awakening experience to our valley; a place where people can identify and learn something valuable from the courageous and heartbreaking stories of the families that have lost a loved one to drug abuse.
It's an epidemic that can be prevented.
Target Audience
The Experience will serve two main purposes: To educate and empower teens to plosing a loved one.
Content Requirements
The Experience will create specific criteria (as was done by the Youth Grove) in order to be included in the memorial: Age up to 25 and they must have been a resident of Santa Clarita, if they have left the area, one parent must still be living in our Valley. Drug use must have been a major contributor to their death.
Community Involvement
We have been working with all the key stakeholders in Santa Clarita through the evolution of "The Experience." These include the professional team from Action Family Counseling, The City of Santa Clarita, The Santa Clarita Sheriff's Department, The William S. Hart School District, The Santa Clarita Child & Family Center, The City's Blue Ribbon Task Force, The SCV Youth have lost their siblings to drug abuse.
Community Courts
We will suggest the Santa Clarita Community Courts who see kids with drug/alcohol violations suggest, but not require participants and parents attend an "Experience" presentation similar to the Youth Grove.
Video
We shall create two videos at launch of the project. The first is a short 3-5 minute promotional video designed for the website and for the vehicle when it is used as a prop to lead people to an indoor event (ie. Outside a school auditorium). 
The second video will be longer and feature interviews with friends and families of victims, identifying them with first and last names (if agreed upon by their family), along with geographic identifiers, (ie. Saugus, Valencia, Canyon Country).
This video shall be compelling and engaging. Watching it will be a memorable experience. Many of the showings will be followed by a live presentation however it will also be designed to stand on its own. This video can be played inside an auditorium or on our mobile memorial at events like the Emergency Expo, High School Football games, Concerts In the Park, at the skate park, etc.
Operation & Sponsorship
The Action Family Foundation is the main sponsor for the project. Their sponsorship covers a large portion of the capital purchase of the vehicle and equipment, storage, insurance and operation along with production of the video and website. 
We are seeking additional sponsorships and possible grants to cover the remaining investment, (ie. Logos in video presentation, on website with links and on vehicle).
Action personnel will coordinate the scheduling and delivery of the vehicle to all events and assist with any presentations.
Costs
Costs for our digital mobile vehicle is approximately $30,000.00 including the vehicle, interior construction, the video monitors, computers and wrap for the initial phase of our project.
Our vehicle is already purchased and all mechanical work completed. We are now in the process of gutting out the interior for modification. 
Additional Capital costs will include:
Website Development & Design: $2,500.00
Video & Production: $6,000.00
Total Capital Expense: $38,500.00
Annual Operational Expenses
Gas/Insurance/Repair for Vehicle: $6,000.00/year
Personnel: (10 hrs/week x $15.00/hr.) $7,650.00/year
Total Operational Expense: $13,650.00/year
Sponsorships
We are seeking a sponsorship commitment from you of $2,500.00/year for a 4-year period. As a sponsor you shall receive the following:
Invitation to be part of "The Experience" advisory committee.
Logo placed on the side of the Experience.
Sponsorship & Logo links from the Experience website and Action Family Foundation website.